South Jersey Dog Boarding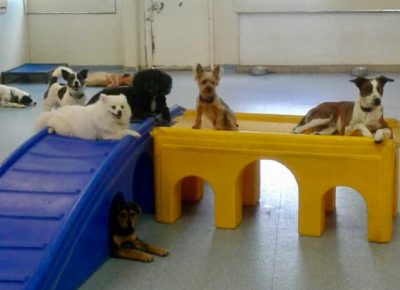 When you're away on vacation or for business, why not give your dogs a slumber party that helps their well-being too? Our South Jersey dog boarding services offer just that. We don't put them in crates for the night…Villa La Paws keeps your dog in a cage-free, stress-free environment.
During the day, our boarding dogs stay with the daycare dogs in the playrooms. At 7:00 PM when the last of the daycare dogs have left for the day, our boarding dogs stay with an attendant until 9:00 PM, when they are taken out for one more potty break.
Boarding pups stay in their assigned sleeping rooms, and sleep together as a group on comfortable couches, chairs, cots and beds. We tuck them in safely and have an overnight attendant watching them through the night on our monitors. Our overnight staff will keep your dog safe and sound.
The next morning at 6:00 AM, the boarding dogs are let outside by counselors and then back into the playrooms with arriving daycare dogs, to play and socialize again for the day.
Throughout your dogs' stay with us, we have 24/7 webcams available, so you can check in on them from wherever you are. Enjoy the peace of mind of seeing your dog sleeping peacefully on a comfortable sofa.
Please note that since dogs have peculiar stomachs, we do not provide food for boarding pups. Be sure to bring along your dog's favorite meal. Our boarding pups are fed separately, and we can give them any needed meds as well while you're away.
Click For Pricing
Please read our Reservation Policies here.
Schedule Boarding
New Clients: Please know that due to increasing demand we will have you on our waitlist.