Our Staff
MIKE SINKO & LINDA TOOGOOD – OWNERS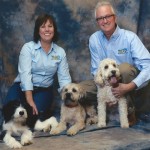 After 33 years of putting on a suit and tie, I finally found something I love to do every day (and it doesn't hurt that I no longer need to wear suit and tie 😊). In September 2013, Linda and I started Villa La Paws in Maple Shade. As in any new business, the hours were long, but never hard to do. There is nothing better than spending time with the pups. Now, unfortunately, a lot of my time is spent in the office, but I always make time to play with some of the pups during the day. It is true that if you do what you love every day, you do not work. The Villa has given me the opportunity to not only get to know some awesome dogs, but to meet wonderful people. We truly do view our mission as being a part of your pups extended family. Linda is still helping people with their mortgage needs at Columbia Bank, but behind the scenes provides valuable input for the operation of the Villa. And, every year, she is a great Santa's helper when we take Santa pictures with the pups.
---
SARAH TRAYNOR- SHIFT LEADER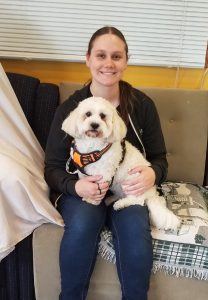 Sarah has been part of the Villa La PAWS team since August 2016. At home, she loves to go on walks with her Havanese, Sadie Brulee, who turned 10 in 2018. Her extended dog family consists of a Yorkie, a Bulldog, two Great Danes and a chihuahua. Sarah can't wait to have a pack of her own one day, but in the meantime, she promises to give all the Villa pups lots of attention and treat them like family!
---
JOHN DELARIONDA- SHIFT LEADER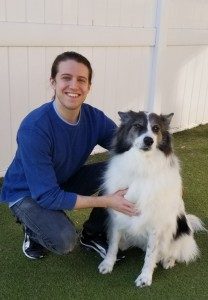 John started his pet care career in 2012 at Almost Home Animal Shelter. He took a particular interest in helping fussy dogs to get along with others, as well as taking care of them as a whole. Those interests led him to Villa la Paws in 2014, where he quickly fell in love with all of the regulars and the dynamic of group play! He is extremely excited for the expansion of Villa and having the ability to take more dogs!
---
MELISSA BERNARDIN – TRAINER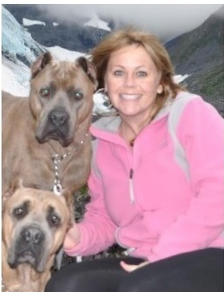 A lifelong lover of all animals, Melissa has been actively training dogs for over 20 years. In 2013 she retired from the United States Air Force where she had the opportunity to work with Military Working Dogs. During her 4 years in Germany, Melissa Trained at a local Schutzhund Club with her German Shepherd, Ranger. The team of Melissa and Ranger also received the Canine Good Citizen certification. Having been stationed all over the world, Melissa has been an active volunteer in the Rescue Community. She has worked with many training businesses and clients offering group and private lessons. She is a professional member of the Association of Professional Dog Trainers.
Melissa has been fortunate to work with hundreds of dogs and feels that each dog learns differently and no one method is perfect for all dogs. Training needs to be flexible for the dog and the owner. She believes in gentle, reward-based techniques.
---
CAT SHEMELEY – MANAGER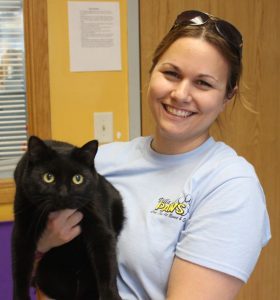 Cat has worked in the pet care business for dogs and cats since 2006. She started out working in a grooming environment to bathe dogs and cats. She joined Villa La Paws in September of 2013 as a playroom attendant and is now a co-manager for the Villa. Cat loves to help clients better understand their pet's behavior. She owns two cats and fosters a plethora of kittens. Any time Cat is working, you will find some kittens in the Office that she is fostering for one of the shelters in the area.
---
JACKIE VIRELLA – TEAM LEADER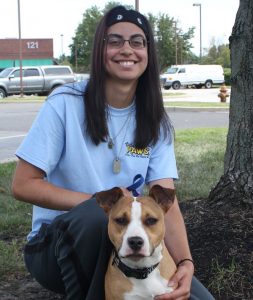 She has worked in the pet care field for a total of 7 years and has been working at the Villa since November 2014. Since she can remember, Jaclyn has had a great love for all animals. To help her understand dog behavior better, she has taken classes in dog behavior and wants to follow her dream to become the new and improved "dog whisperer". Some of her hobbies include listening to music, playing guitar, camping, driving her Chevy truck, and binge-watching Friends, over and over!
---
KIM VANDEXTER – MANAGER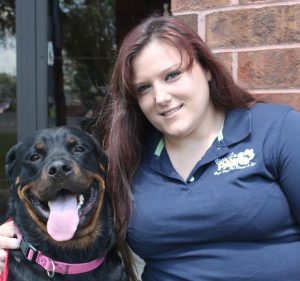 Kim has always had a strong passion to work with animals. This is what led her to Villa La Paws when we opened in September of 2013. Kim was one of our initial dog counselors and worked full time supervising play groups. She is now a co-manager for the Villa. Kim has had all types of pets throughout her life. She currently has two rottweilers and four cats at home. In her spare time, you will find Kim walking around town with her dogs, or taking care of kittens that she fosters from the Shelter.
---
GREG SINKO – SHIFT LEADER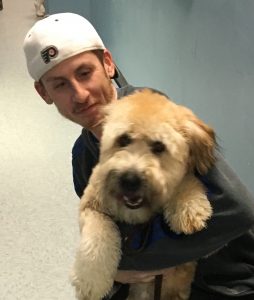 Greg has been a life long resident of Lake Pine in Medford and has always had dogs and cats to care for in his life. Greg began working at the Villa 3 years ago as a counselor and still loves to hang out with the pups in the playroom when he is not out front for evaluations and/or providing customer service. You will often see Greg carrying around one of his many favorites, like Pancake, Finn, Oliver or Pascal. Fortunately for Greg, the bigger pups don't mind walking along side of him instead of being carried.